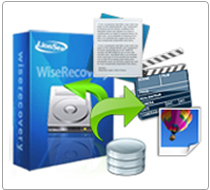 Best Windows Undo Delete Software, recovering data in 3 Steps!
Wise Windows Undo Delete is designed for undoing deleted files; it performs a fast scanning of your selected drive or volume. This mode is the most usual mode you will try first, it works with almost all cases of data loss, and deletion on a Windows based drive. It supports many scenarios that you lost and help you to undelete them. If you don't believe Wise Windows Undo Delete magic function and effect. Just have a try!


Why the deleted files can be undone, good question. When you deleted a file, you just lose the file entry in the disk or other media storages. The file content still exists on the hard disk, Windows simply marks the hard drive and notify the file system that the space the file formerly occupy is free and can be re-usable. In most cases, Windows doesn't erase the true file content. So the file content is still there, and it is still possible to undo the deleted data.

Wise Windows Undo Delete is easy-to-use data recovery software that recovers lost and deleted data from hard drive or other storage media due to deletion, corruption or formatting of any storage device. It helps in cases of hard drive corruption or formatting, virus attack, malfunction etc.

Every day, Wise Windows Undo Delete helps hundreds of users recover their lost or deleted data. It supports 600+ file formats, almost all file system.

Wise Windows Undo Delete is everything you need to get lost data back. Deleted documents can occur because of any of the below possibilities: Document was mistakenly deleted; Document was corrupt and deleted by scandisk; Another program deleted the document; Document is password protected. So you should have good habit to backup all documents to avoid annoying trouble. How to undo deleted documents with Wise Windows Undo Delete? 1. Download Wise Windows Undo Delete, install it and launch it. Click the "Start Scan" button on the main window of Wise Windows Undo Delete. 2. You can see the list of all volumes found on your computer, select the exact drive and click the "Next" button to start scanning. If you can't see the drive, please make sure your external drives are connected, and click 'Refresh' button. 3. It will take about 2-10 minutes to scan, it depends on your disk size and files amount on the disk. After scanning is finished, you can preview text document and picture files. Simple procedure, amazing effect!


Screenshots

Download Now: Wise Windows Undo Delete Pro Software
* Wise Windows Undo Delete will recover all type of data from your disk.