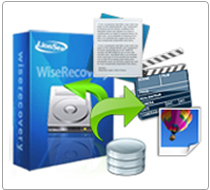 Best Unerase Data Software, recovering data in 3 Steps!
Wise Unerase Data is a well-known program which is used to unerase lost data. Wise Unerase Data is capable of unerasing lost, deleted files and folders from hard disk and USB removable media drives. It performs read only operation and will never do any damage to your card or hard drive. Wise Unerase Data will unerase you data just in three steps.

Wise Unerase Data is professional unerase software which is specialized in unerasing your deleted data. It is powerful data recovery software that helps you to recover deleted files and restore deleted partitions. With this software, you can undelete your data efficiently and effectively. Wise Unerase Data supports almost all kinds of deleted files, such as MS Office documents, Acrobat, Archive, Audio, Video, Image, Backup, Database, and Internet files, in total, there are more than 600+ major file types are supported by this utility. The operation is easy and suitable for both computer novices and advanced computer users.

Nowadays, Computers have long become an integral part of our lives and most of our data is stored on Floppy, CD, DVD, Hard Drive, USB Stick, Flash Drive, Memory Card, SD or on another type of media or format. Even if you make a backup of your important data by writing it to CD, DVD or other media is easy and fast - But it's never 100% safe! So what if something goes wrong? What if you lose precious pictures of your loved ones or important business related information? Once you have Wise Unerase Data, all the above problems can be solved easily.

Wise Unerase Data displays many standard features. Compared with other recovery software, following features help this tool outstanding among its competitors:

By using multi-thread and our specialized deep scanning technology, Wise Unerase Data has a very fast scanning speed. The software supports more than 100 different file types. Recover lost or deleted files on the basis of their file signatures with the advanced Raw Recovery feature included in the software.

Above all, Wise Unerase Data is a multi-functional program which is able to recover lost window data, undelete deleted files, and restore deleted partitions. It is also specialized in unerasing missing videos, photos and audio files. This utility will assist people to recover formatted data effectively.


Screenshots

Download Now: Wise Unerase Data Pro Software
* Wise Unerase Data Pro will recover all type of data from your disk.