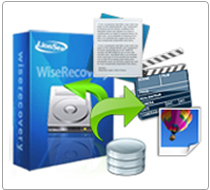 Best Undelete Partition Software, recovering data in 3 Steps!
Wise Undelete Partition is extremely easy to use and has a very small download. It is perfect for everyone with a wide range of Windows operating systems supported. Wise Undelete Partition's well designed wizard asks the important questions and does the hard work behind the scenes. This tool can easily restore partition which got deleted or lost while repartitioning a hard drive.


Have you deleted or formatted the partitions unconsciously? You Need Three Simple Steps!

Do you want to know how can you get back the lost data from accidentally deleted partition without affecting the file structure of the data? If your problem is similar to the above mentioned statement then this article will help you to get back your lost data from inadvertently deleted partition. In this contest, you need to use reliable lost partition recovery software which can retrieve files from corrupted NTFS partition just in a couple of minutes.

It is very much essential that you should recover your lost partition as soon as possible before the recovery chances gets reduced. In addition to this, it is very important to know the reason behind such loss before selecting any third party lost partition recovery software.

Wise Undelete Partition is Smarter, Faster and Better compared to other lost partition recovery tools.

Wise Undelete Partition works well with both Windows and Mac OS. Most of the industry experts and skilled professionals had appreciated and recommended Wise Undelete Partition. Wise Undelete Partition has also received many awards for its excellence working ability. You can easily restore WD hard drive data after partition table corruption on your computer by using this efficient program.

Sometimes hard drive partition on Windows Vista may get corrupted due to virus attack, system crash, file system corruption, installing multiple number of OS. With the help of this software you can easily restore lost partition on Vista without much difficulty.The interface is available in 17 different languages such as English, Dutch, Japanese, Spanish and Russian. Download it and you will be surprised!


Screenshots

Download Now: Wise Undelete Partition Pro Software
* Wise Undelete Partition will recover all type of data from your disk.