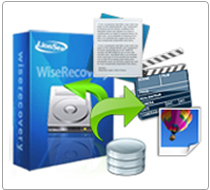 Best Undelete Files Freeware, recovering data in 3 Steps!
You may be grieved for your lost files when you delete them mistakenly. Do not worry about this as Wise Undelete Files Freeware is able to recover the files. Wise Undelete Files Freeware supports wide kinds of deleted documents, such as MS Office documents, Acrobat, Archive, Audio, Video, Image, Backup, Database, and Internet files etc. are supported by Wise Undelete Files Freeware.
When we say files, they always refer to Office files. Office files are so important in our day to day life that our work can hardly be carried on without them. I believe we all have been bothered by a "files cannot be found" issue. What will you do if your files are lost? The tips below can help you recover deleted files.

Wise Undelete Files Freeware can help you recover files in many formats.

1.Microsoft Office97; 2.Microsoft Office 2000; 3.Microsoft Office 2003; 4.Microsoft Office 2007.

If you delete a file, it has been moved to the Recycle Bin. You can easily restore it from the Recycle Bin without any trouble. But if you have emptied your Recycle Bin, you cannot find it by yourself any more. You need the help of a file recovery tool. So it is so important and helpful to search the deleted files in the Recycle Bin after you delete the important files by mistake.

Wise Undelete Files Freeware is a powerful file recovery freeware that can help you to undelete files, even if you have emptied your recycle bin. It can also recover lost files after a system crash and the files damaged by mistake. Lost files can occur because of any of the below possibilities: File was mistakenly deleted; Files were corrupted and deleted by scan disk; Another program deleted the file; File is password protected.

How to recover lost files with Wise Undelete Files Freeware?

1. Download Wise Undelete Files Freeware, install it and launch it. Click the "Start Scan" button on the main window of Wise Undelete Files Freeware.

2. You can see the list of all volumes found on your computer, select the exact drive and click the "Next" button to start scanning. If you can not see the drive, please make sure your external drives are connected, and click Refresh button.

3. It will take about 2-10 minutes to scan, it depends on your disk size and files amount on the disk. After scanning is finished, you can preview text document and picture files.


Screenshots

Download Now: Wise Undelete Files Freeware Pro Software
* Wise Undelete Files Freeware will recover all type of data from your disk.