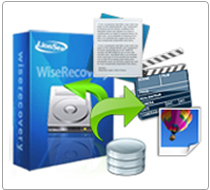 Best UDF CD Recovery Software, recovering data in 3 Steps!
Wise UDF CD Recovery recovers file data from, so called packet written, or drag and drop created, optical discs created with: Roxio Direct CD, Roxio Drag-to-Disc, Ahead / Nero InCD, Prassi / Veritas / Sonic DLA, VOB / Pinnacle Instant-Write, CeQuadrat Packet CD, NTI FileCD, BHA B's CLiP, Sony abCD, Sony Mavica, and many more...


Wise UDF CD Recovery is a leading data recovery software that recovers or retrieves corrupt, lost data from CDs. Wise UDF CD Recovery supports inaccessible and lost data and files retrieval.

Wise UDF CD Recovery is used to recover lost data from DVDs and CDs that are either defective, scratched, or otherwise considered broken. This software can recover files from many disc types such as CD-Rom, CD-R, DVD-ROM, CD-RW, DVD-R, and DVD-RW.

Wise UDF CD Recovery is able to identify disks that are loaded with UDF packet writing software such as DirectCD, InCD, and packetCD. Using this software allows you to take a step-by-step process to the recovery of the information on your broken disc. Run Wise UDF CD Recovery and scan the chosen diskand you should get your data back in just several minutes. This software should be used by PC owners who have a DVD or CD that is broken, but contains valuable information. This software supports all Windows versions: Windows 7, Windows 8, Windows Vista, Windows XP and other Windows versions.

Wise UDF CD Recovery can not only recover files from CDs but it also recover lost data from hard disk, sd cards, floppy disk, usb disk and so on. The interface is available in 17 different languages such as English, Dutch, Japanese, Spanish and Russian. Download it and you will be surprised!


Screenshots

Download Now: Wise UDF CD Recovery Pro Software
* Wise UDF CD Recovery Pro will recover all type of data from your disk.