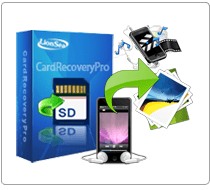 Best SDHC Card Recovery Software, recovering pictures in 3 Steps!
SDHC is a kind of SD card. So it is also most used among the memory cards. But people sometimes make mistakes and may delete or loss the original files (without backup) or data or pictures in SDHC. If this annoys you very long time, that\'s OK, you will say good bye to this kind of troublesome as SDHC Card Recovery pro will help you to retrieve them. So are you excited with that? Yes, just have a try!

SDHC Card Recovery pro is so popular and well-known, the basic reason is powerful and various functions. This attracts so many people to recover important files via SDHC Card Recovery pro. The software can effectively recover deleted or lost photos, music, video, and multimedia files from almost all digital cards after disasters like erroneous deletion, corruption or formatting errors, etc.

Using SDHC Card Recovery pro is safe and risk-free. SDHC Card Recovery pro performs read- only operations on your memory card. It doesn't move, delete, or modify the data on the card to avoid causing further damage or overwriting the source. It recovers photos, music, video, and multimedia files from the source memory card and saves them to the destination location you specify in just a few steps.

SDHC Photo Recovery pro helps you to recover all your lost pictures from practically any model of Digital Camera. The software also supports RAW recovery of pictures from all major digital camera brands like Sony, Canon, Nikon, Samsung, Minolta, Pentax, Kodak, Fuji, Sigma, Olympus, Mamiya, Epson and Panasonic etc. SDHC Card Recovery pro also helps you get your lost photos and other multimedia files back from any formatted /corrupted / damaged Internal or External storage media that are recognized by Windows OS.

See list of supported digital cameras, memory cards, Flash Cards, USB storages devices, CF Card, SD Card (Mini SD, Micro SD, SDHC Card), Mini Disks or any other Windows based hard drives. SDHC Card Recovery pro recovers images even after data loss caused by erroneous memory card deletion, formatting or corruption, recovers without requiring a prior backup or image of the drive.

SDHC Card Recovery pro is easy to operate. Just a few clicks you will undelete your lost of SDHC. No technical experience required. Do-It-Yourself in 3 easy steps: Connect device, Scan, Select files -- and the recovery is complete! Simple procedure! Amazing effect!


Screenshots

Download Now: SDHC Card Recovery Pro Software
* SDHC Card Recovery Pro will undelete all type of photos from your SD card or disk.