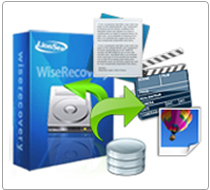 Best Restore Deleted Folder Software, recovering folders in 3 Steps!
You may lose your folders due to accidental/intentional deletion of document, even after 'shift+del' deletion or empty recycle bin, Wise Restore Deleted Folder is also able to recover the folders. Even though Wise Restore Deleted Folder can help you to retrieve these lost folders; you should have a good habit to backup all your important information to get rid of the trouble.


Some people may ask how can I recover deleted folders? Where to find better software? Wise Restore Deleted Folder helps you recover these lost files without difficulties.

Wise Restore Deleted Folder restores deleted files no longer in the Recycle Bin. It can recover deleted folders and files such as Word, Excel, PowerPoint, photo, Email, database, and all document formats in Windows 7, Windows 8, Windows Vista, Windows XP and other Windows versions. Wise Restore Deleted Folder can not only undelete deleted folders and files but also other devices such as various kinds of memory cards, camera, cell phone as many as you can imagine.

The key features and advantages are:

Wise Restore Deleted Folder software gives you the opportunity to quickly and easily recover lost folders, data, files, documents, emails, pictures and other files.

Recover office document, photo, image, video, music, email, etc.
Recover from hard drive, USB drive, memory card, memory stick, camera card, Zip, floppy disk or other storage media.
Support FAT12, FAT16, FAT32, NTFS/NTFS5 file systems.
Specify file types before file recovery to find lost files quickly.
600+ File Formats: Photos, videos, music, docs, emails, .zip, etc.
Any Data Loss Situation: Recover deleted, formatted, or otherwise inaccessible files.
Not Just for Hard Drives: Recover from USBs, external hard drives, mobile phones, digital cameras, iPod, MP3/MP4 players and more. 100% safe. This Windows data recovery program works without any damage to your data. If you are suffering any of trouble that caused by lost folders, you can undelete them via Wise Restore Deleted Folder. You must be very amazing at the result!


Screenshots

Download Now: Wise Restore Deleted Folder Pro Software
* Wise Restore Deleted Folder will recover all type of data from your disk.