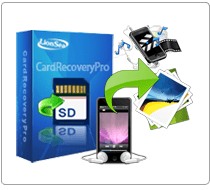 Best Rescue SD Card Software, recovering pictures in 3 Steps!
Rescue SD Card Pro owns its secret weapon to compete in the card recovery market. This tool is designed to rescue lost data from SD memory card. Rescue SD Card Pro v2.6 can recover formatted SD card in a few minutes. With this software, you will have a totally amazing experience of rescuing lost data from SD card. Most importantly, Rescue SD Card Pro v2.6 has a detail introduction of how to rescue SD Card.
Rescue SD Card Pro is professional SD memory card recovery software, which occupies essential place in rescuing SD card market. Compared with other card recovery software, Rescue SD Card Pro is able to recover deleted photos easier and more effective. This software presents their customers an easy-to-use interface. Even though you are a computer novice, you can undelete your formatted SD memory card with Rescue SD Card Pro.The software also provides a detail introduction of how to Rescue SD Card Pro.

Moreover, it is to be observed that this tool is capable of recovering lost photos, undeleting missing pictures, retrieving formatted data and restoring deleted files. It also owns the ability of retrieving large video and audio files. No matter what format of files you want to recure, Rescue SD Card Pro v2.6 will not let you down.

This tool supports nearly all famous digital camera brands in the market, such as Nikon, Canon, Kodak, FujiFilm, Casio, Olympus, Sony, SamSung, Panasonic, Fuji, Konica-Minolta, HP, Agfa, NEC, Imation, Sanyo, Epson, IBM, Goldstar, LG, SHARP, Lexar, Mitsubishi, Kyocera, JVC, Leica, Phillips, Toshiba, SanDisk, Chinon, Ricoh, Hitachi, Pentax, Kinon, Verbatim, Vivitar, Yashica, Argus, Lumix, Polaroid and Sigma.

The video files which it can undelete consists of including AVI, MP4, MPEG, 3GP, AVCHD Video File (MTS), Matroska Video File (MKV), MOI Video File, Divx Encoded Movie File (DIVX), Video Object File (VOB), OGG Media Player (OGM), ASX, 3G2.

The audio file which it can recover includes MP3, WMA, WAV, RPS, AU, MIDI, AIFF, OGG, RM, RA, M4P and M4A. It can help you recover your songs, karaoke, music compositions or any other lost audio files.
What is more, the software supports almost all image format including BMP, JPEG, GIF, TIFF, Mamiya (MOS, MEF), Paint Shop, Picture File (PCT) and Pro Image File (PSP).


Screenshots

Download Now: Rescue SD Card Pro Software
* Rescue SD Card Pro will undelete all type of photos from your SD card or disk.