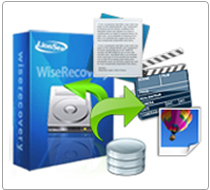 Best Recover Lost Files Software, recovering data in 3 Steps!
Wise Recover Lost Files is in the leading top of this recovery software as it displays series of good points compared to its competitors: Recover files from Missing or Lost folders; Recover long file and folder names; Support all file systems FAT; Support all types of disk: IDE, EIDE, SATA, RAID and SCSI. Wise Recover Lost Files helps hundreds of users recover their lost or deleted files. It is everything you need to get lost files back.
Accidental deletion happens. Whether it was a result of a mass deletion followed by the realization that you needed just one of the files, deleting the wrong version of a document, or just accidentally hitting the delete button, everyone has been there. Some people sulk, complain, and throw the computer out the window, but those with the right knowledge - and the right software - can have a much happier outcome. In many situations, it is possible to recover deleted files and bring it back to the world of the living. You don't need to be a brainy computer nerd, either.

After having Wise Recover Lost Files, you'll realize that the delete button doesn't have the power over you that it seems to have! Wise Recover Lost Files is a file recovery software that can get back lost file due to almost all kinds of recoverable file loss. This Windows file recovery program works without any damage to file. It doesn't move, delete, or modify files in order to avoid further damage or overwriting. It has many powerful features: Undelete Deleted Files; Deleted Partition Recovery; Formatted Partition Recovery; Recovers Data From Mobile Phones; Wide, Safe, Effective Recovery. The software has support to recover lost images, audio and video files from hard drives, USB drives, SD cards, camera, etc.

Wise Recover Lost Files supports file types including camera raw files, such as BMP, GIF, TIF, TIFF, JPEG, JPG, PNG, MTS, WAV, WMV, AVI, ASF, MPEG, etc. It supports 600+ file formats: docs, photos, videos, music, emails, databases, .zip, etc; not just for HDDs: recover data from memory stick, memory cards, external hard drives, mobile phones, digital cameras, iPod, MP3/MP4 players and more. Wise Recover Lost Files has some special features: Preview Recovery: Display of recoverable photos or files as thumbnails. Batch Recovery: Recover multi files at one time. Interactive GUI: The software can be used by any user.

Complete do-it-yourself and risk free with 3 steps: Scan, Select and Recover.


Screenshots

Download Now: Wise Recover Lost Files Pro Software
* Wise Recover Lost Files will recover all type of files from your disk.