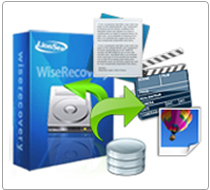 Best Recover Formatted Files Software, recovering files in 3 Steps!
Wise Recover Formatted Files is easy-to-use file recovery software that recovers formatted and lost data from hard drive or other storage media due to deletion, corruption or formatting of any storage device. It helps in cases of hard drive corruption or formatting, virus attack, malfunction etc. Every day, Wise Recover Formatted Files helps hundreds of users recover their lost or deleted data. It is everything you need to get lost data back.
To make a new hard disk into use, you need to format it. When you format a hard drive, your computer deletes all bookkeeping information on your disk, tests the disk to make all sectors reliable, marks bad sectors and makes internal address tables for later use to locate information. Every Hard Disk should be formatted before use. Wise Recover Formatted Files is one of the best software that can help you to recover the data from a formatted disk. Why could we unformat files from hard drive? Many friends find that there is a lot of important data after they format their hard drive.

How to recover the data from a formatted disk? After you format a disk. In fact, if you know a little about how disk works, you will know it still in your disk. It just rewrites the data in Disk C Boot Sector and only the data in this partition is deleted. However it didn't change any other information in your hard disk.

How to recover formatted files via Wise Recover Formatted Files?

1. Download Wise Recover Formatted Files, install it and launch it. Click the "Start Scan" button on the main window of Wise Recover Formatted Files.

2. You can see the list of all volumes found on your computer, select the exact drive and click the "Next" button to start scanning. If you can't see the drive, please make sure your external drives are connected, and click 'Refresh' button.

3. It will take about 2-10 minutes to scan, it depends on your disk size and files amount on the disk. After scanning is finished, you can preview text document and picture files.

Simple procedure, amazing effect!

It supports almost all situations of file lost:

Hard Drives that have been formatted; Corrupted or missing critical file system structures; Accidental file deletion; File loss without reason; Unexpected system shutdown or application failure; Computer viruses and worms infection or corruption; Damage due to a power failure or surge. If you are suffering this, you will be happy with Wise Recover Formatted Files.



Screenshots

Download Now: Wise Recover Formatted Files Pro Software
* Wise Recover Formatted Files will recover all type of data from your disk.