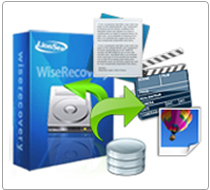 Best Recover Files Software, recovering files in 3 Steps!
Wise Recover Files is in the leading top of this recovery software as it displays series of good points compared to its competitors: Recover files from Missing or Lost folders; Recover long file and folder names; Support all file systems FAT; Support all types of disk: IDE, EIDE, SATA, RAID and SCSI. Wise Recover Files helps hundreds of users recover their lost or deleted files. It is everything you need to get lost files back.


You're busy working on your computer and need to access documents saved on your external hard drive. You connect it, get ready to find your data and nothing happens. Your hard drive isn't working. When dealing with file loss, the first and most important thing to keep in mind is not to work with the drive in question. Every second that the drive is connected to a running system is a second that you lose your chances at recovery. Your operating system is reading and writing to your drive constantly, whether you're actively doing something or not. Now that your system is seeing the deleted data as 'free space' it will happily overwrite this area along with your chances of recovery.

Wise Recover Files aims at recovering and getting deleted lost files back! In many situations, it is possible to recover deleted files and bring it back to the world of the living. You don't need to be a brainy computer geek, either. Wise Recover Files is file recovery software that can get back lost file due to almost all kinds of recoverable file loss. This Windows file recovery program works without any damage to file.

It doesn't move, delete, or modify files in order to avoid further damage or overwriting.

It has many powerful features: Undelete Deleted Files; Deleted Partition Recovery; Formatted Partition Recovery; Recovers Data From Mobile Phones; Wide, Safe, Effective Recovery.

The software has support to recover lost images, audio and video files from hard drives, USB drives, SD cards, camera, etc.

It supports file types including camera raw files. It supports 600+ file formats: docs, photos, videos, music, emails, databases, .zip, etc; not just for HDDs: recover data from memory stick, memory cards, external hard drives, mobile phones, digital cameras, iPod, MP3/MP4 players and more.If you want to get rid of this problem just try Wise Recover Files!


Screenshots

Download Now: Wise Recover Files Pro Software
* Wise Recover Files will recover all type of data from your disk.