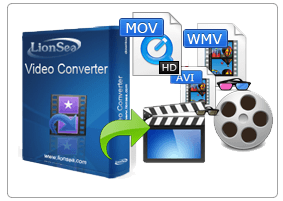 50X Faster Conversion Speed
Lionsea MPEG Converter Ultimate is an outstanding video converter that specialized in converting mainstream formats into MPEG, as well as convert between different famous video and audio formats. It is easy to use that all level computer users may feel satisfied in using the software. Besides, it has wide system and device compatibility, as well as high quality effect and fast converting speed.
As there is a limit of media players, some of video formats cannot be played by them. However, not all videos that we want to see can be easily found on other formats, so it seems to be helpless if such situation occurs to us. Fortunately, with the help Lionsea MPEG Converter Ultimate, that annoying situation can be solved with ease.

Lionsea MPEG Converter Ultimate is an efficient and powerful video converter that can help people convert video and audio files easily within a few minutes. The software owns preview function that help users see clearly at the converting process and pause during it whenever in need. It shares fast converting speed, wide system and device compatibility and easy operating function. The converted videos are of high vision and audio quality and users can enjoy the pleasure for converting with others. It is user friendly that people can set or change brightness, saturation or contrast, as well as add artistic effects, text watermarks or subtitles for different demand. In a word, you may feel satisfied for using the software.


Screenshots

Download Now: Lionsea MPEG Converter Ultimate Software
* Video Converter convert all video and audio formats.