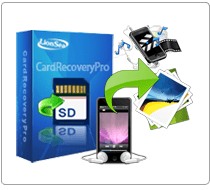 Best HTC File Recovery Software, recovering pictures in 3 Steps!
HTC File Recovery Pro is the leading card recovery software for memory card used by phone and digital camera. HTC File Recovery Pro is easy-to-use and risk-free recovery freeware that can effectively recover deleted or lost photos, music, video, and multimedia files from not only HTC but almost all digital cards after instances like deletion, corruption and formatting, etc.

HTC are one of the most popularly used cell phone in today's market. Due to accidental deletion, pressing the reformat button, or various reasons of damage (e.g. low battery power, turning off on writing/reading), you may have lost your valuable pictures from a HTC cell phone. Do not worry! In most cases, they are still recoverable.

HTC File Recovery Pro is cell phone Recovery software to recover deleted, reformatted and damaged photos, movies and files from HTC cell phone.
HTC File Recovery Pro supports all cell phone brands and types on the market. It concentrates in recovering not only cell phone but also many removable storages such as SD Card (Secure Digital), Multi Media Card (MMC), XD Card, MicroSD card, Memory Stick, Mobile phone memory card, Cellular phone, digital media, USB flash drive and as much as you can imagine. Many scenarios can lead to the loss such as: accidental deletion events, accidental formatting or reformat, improper operation, other recoverable scenario. For instance, virus infection, unexpected power off, lost photos during transferring photos from storage devices to PC/laptop, file system corruption (camera storage device, hard drive or USB flash drive), unexpected errors during low batteries and improper digital camera turn off, corrupted file format, populating an error message "File cannot be open", power failure of PC, causing logical File System corruption on storage device or any sort of errors and corruption causing the memory card unreadable.

But no matter which scenario you are facing, please don't worry, HTC File Recovery Pro will take care of this. HTC File Recovery Pro recovers photos/pictures from formatted or corrupted storage media. Also recovers all your precious photos that are lost or deleted from any Windows operating system based storage media. In addition, this software supports almost all image formats including BMP, JPEG, GIF, TIFF, Mamiya (MOS, MEF), Paint Shop, Picture File (PCT) and Pro Image File (PSP).


Screenshots

Download Now: HTC File Recovery Pro Software
* HTC File Recovery Pro will undelete all type of photos from your SD card or disk.