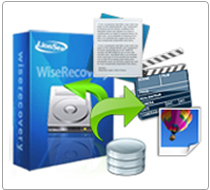 Best Get Back Files Software, recovering files in 3 Steps!
With Wise Get Back Files, problems like crashing down won't be a nightmare any more. We will recover the data in your hard disk without any harm to your computer. Wise Get Back Files does a good job especially on hard disk issue. When there is some problem with your hard drive, Wise Get Back Files will solve it so that your hard disk won't be damaged furthermore.

When files are deleted from your computer, the file is usually preserved. Your OS just marks the space that the deleted file occupies as available - and until another file or operation needs that space, your deleted file will remain recoverable. That is why when you accidentally delete a file, you need to act fast. Computers that have been heavily used since the file was deleted, or that have performed a disk-heavy operation, are less likely to have recoverable files. Even everyday operations like installing new software can have adverse effects on the recoverability of deleted data. So it is very important to have a habit to backup in order to prevent the files loss.

Wise Get Back Files is a file recovery software that can get back lost file due to almost all kinds of recoverable file loss.

Quick Scan and Recovery Speed: By using multi-thread and our specialized deep scanning technology, Wise Get Back Files has a very fast scanning speed.

Preview Recovery: Display of recoverable photos or files as thumbnails. Batch Recovery: Recover multi files at one time.

Safe Recovery: The recovery process is safe and risk-free.

Support All Devices: PC, Hard Drive, USB Drives, Camera, SD card, Cell Phone, Memory Card, USB, Mac, MP3 and more.

Support All File Formats: Images, Audio files, Video files, Emails, Documents, Archives, etc. This software supports more than 600 different file types.

Support Almost All File Systems: NTFS, FAT, CramFS, Linux, etc.

Support Device Error Messages: "Format error", "file error", "Write error", :Read Error", "Memory card error", "SD card error", etc.

Simple and Interactive GUI: The software can be easily used by any user.

Complete Do-It-Yourself and Risk free, only 3 steps: Connect Device, Scan and Select files and Recover!

Automatic Classification: Automatically sort found files into categories.


Screenshots

Download Now: Wise Get Back Files Pro Software
* Wise Get Back Files will recover all type of data from your disk.