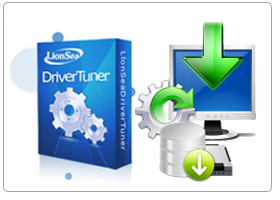 About DriverTuner:
DriverTuner is a full-featured and easy-to-use driver-updating software which could help you download almost all your computer drivers for your PC, fix driver problems and keep them updated. It is an advanced driver-updating software that supports over 20,000, 000device associated drivers. Based on a comprehensive database, it will check the entire system of your computer and detect the device drivers your hardware and software required. DriverTuner is compatible with all Windows operating systems such as Windows® XP 32-bit, Windows Vista® 32-bit and 64-bit, and Windows® 7 32-bit and 64-bit operating systems.
1. Fix Driver Issues:

If you have a missing, outdated, or corrupted driver, DriverTuner can help you fix driver issues in just a few minutes! It can also help you fix system problems with new drivers quickly and keep your PC in a healthy state.



2.Download Up-to-Date Drivers & Maximize PC Performance:

DriverTuner can help you update the old drivers with the latest drivers for your computer. You can download the drivers with just a single click. It will boost your PC and maximize your PC performance!



3.Machine Intelligence:

DriverTuner Machine Intelligence identifies your specific computer to provide you with the most accurate and latest drivers available.



4.Easy-to-Use Interface:

DriverTuner excels in its easy-to-use interface. Any driver issues can be fixed with a few clicks of your mouse. It is easy enough for computer novices to figure out in a flash.



5.Comprehensive Drivers Database:

Based on a huge and comprehensive database of more than 20,000, 000 driver entries, DriverTuner supports drivers for almost all major computer hardware and device manufacturers such as Dell, HP, Lenovo, Samsung, Toshiba, ASUS, Nvidia, Intel, Realtek, Brother, EPSON, Compaq, Gateway, and so on. It can fix driver issues for your motherboard card, chipset, graphics card, audio& sound card, video card, monitor, printer, webcam, network adapter, router, USB, bluetooth, firmware, etc and keep the drivers updated.



6.Wide System Compatibility:

DriverTuner is compatible with all versions of Windows operating systems such as Windows 7, XP, Vista, 2000, 2003, 2008, 32 and 64 bit.




Download Now: Drivertuner Software
* Best driver updating software help you get most up to date drivers.