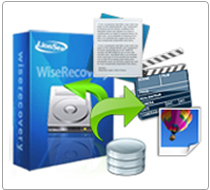 Best Data Recovery Utility Software, recovering data in 3 Steps!
Wise Data Recovery Utility is designed for retrieving deleted files; it performs a fast scanning of your selected drive or volume. This mode is the most usual mode you will try first, it works with almost all cases of data loss, and deletion on a Windows based drive. It supports many scenarios that you lost and help you to undelete them. If you don't believe Wise Data Recovery Utility's magic function and effect. Just have a try!
What happened if we decide to empty Recycle Bin? When we emptied Recycle Bin (secure emptying is not included), what we deleted is actually not the file. You just lose the access of the file from the system. The space occupied by deleted files is marked as "available to reuse", so the deleted files remain physically intact on the drive until they are overwritten by other files. The files will be only deleted when they are overwritten by new files.

To prevent overwriting we need to stop using your computer or hard devices immediately if we want to recover deleted data from Recycle Bin. How to recover deleted data from Recycle Bin? To rescue emptied Recycle Bin, you can try a recovery program Wise Data Recovery Utility- an easy-to-use data recovery for computer users, which empowers you to recover formatted, deleted and inaccessible images, archives, documents, songs, videos, etc. from laptop, desktop, USB drives, digital camera, mobile phones and other storage media.

With its friendly interface, you can recover deleted data just with some clicks. If the space isn't overwritten, your deleted files can be recovered with 100%.

Wise Data Recovery Utility is everything you need to get lost data back. Deleted data can occur because of any of the below possibilities: Data was mistakenly deleted; Data was corrupt and deleted by scandisk, etc.

Then how to rescue deleted data with Wise Data Recovery Utility?

1. Download Wise Data Recovery Utility, install it and launch it. Click the "Start Scan" button on the main window of Wise Data Recovery Utility.

2. You can see the list of all volumes found on your computer, select the exact drive and click the "Next" button to start scanning. If you can't see the drive, please make sure your external drives are connected, and click 'Refresh' button.

3. It will take about 2-10 minutes to scan, it depends on your disk size and files amount on the disk. After scanning is finished, you can preview text document and picture files.


Screenshots

Download Now: Wise Data Recovery Utility Pro Software
* Wise Data Recovery Utility will recover all type of data from your disk.