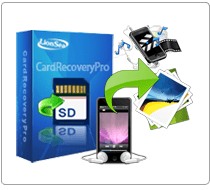 Best CF Card Recovery Software, recovering pictures in 3 Steps!
CF Card Recovery Pro is professional memory card recovery software. It is good at restoring lost files in CF card and other memory cards. With this software, people will never need to worry about their lost files, pictures, videos and other important files. It supports all the windows OS and card types. And it is designed to restore all types of raw files. Recover the lost files now!
CF Card Recovery Pro is a special card recovery tool dedicated to recovering lost important files from CF card. The software is specialized in recovering missing data of your CF card.

As we know, CF is a storage device for mass storage media. It is short for Compact Flash Card, which is mostly used in portable electronic devices like PDAs, digital cameras and mobile phones. During the past 5 years, CF Card Recovery Pro gains special technology in recovering lost data from CF card. Therefore, using CF card or the need rate for CF Card Recovery is increasingly high.

CF Card Recovery Pro is designated Memory Card Recovery Software specialized in recovering lost photos, undeleting missing pictures, retrieving formatted data and restoring deleted files. No matter you know much about computer or an advanced computer user, you can use the software easily. The software contains four forms of recovery process, among which the Preview Recovery is designed for people to see thumbnails of recoverable photos or files. When accidentally delete data from CF Card, most people may raise a question about how to recover them from CF card. With the help of CF Card Recovery Pro, there is no need to worry about the missing photos, pictures, videos and important files.

This tool supports nearly all famous digital camera brands in the market, such as LG, SHARP, Lexar, Mitsubishi, Kyocera, JVC, Leica, Phillips, Toshiba, SanDisk, Chinon, Ricoh, Hitachi, Pentax, Kinon, Verbatim, Vivitar, Yashica, Argus, Lumix, Polaroid and Sigma. Moreover, compared with other recovery softwareNikon, Canon, Kodak, FujiFilm, Casio, Olympus, Sony, SamSung, Panasonic, Fuji, Konica-Minolta, HP, Agfa, NEC, Imation, Sanyo, Epson, IBM, Goldstar and other software manufacturers.


Screenshots

Download Now: CF Card Recovery Pro Software
* CF Card Recovery Pro will undelete all type of photos from your SD card or disk.